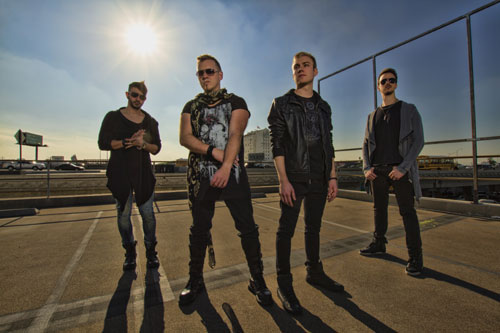 Disciples of Babylon™ (DOB) is an international rock band based in Hollywood, California. The group was founded in 2012 and includes Eric Knight on lead vocals and rhythm guitar, Ramon Blanco on lead guitar, Gui Bodi on bass, and Chris Toeller on drums.
In 2012, Eric Knight met Ramon Blanco while attending an alumni event at the Musician's Institute College of Contemporary Music in Hollywood (where Knight, Blanco and Bodi all graduated from). Subsequently, Eric happened to see a video recording of Ramon performing a guitar solo of Alter Bridge's 'Blackbird' on Facebook, and was so impressed by it that he immediately contacted Ramon and expressed interest in starting a band with him. There was instant chemistry between them both, and they literally wrote their first song - the beautiful anthem 'Arrived' - during their first writing session together. From that moment on, Eric and Ramon continued writing and perfecting new material, while plotting their next steps in the band's evolution. That evolution manifested itself in the form of bassist Gui Bodi, who attended Musician's Institute with Ramon, and had also worked with him previously on several music related projects. Ramon had recommended Gui to Eric for the position of bassist, and the moment he heard Gui play at the audition, Eric immediately agreed that he was the right choice. Disciples of Babylon was now officially a band.


They immediately began writing as a trio, and in May 2014, took their new material into the studio and recorded their impressive debut 3-song EP Welcome to Babylon. The EP begins with the fantastic hard-hitting lead single 'Karma,' which contrasts with the melancholy nature of 'Arrived,' culminating with the final track 'The Great Pretend.' Welcome to Babylon was produced by GRAMMY Award winning producer Andres Torres (La Santa Cecilia, Alejandro Sanz, and co-producing the Luis Fonsi & Daddy Yankee smash hit 'Despacito', and who also lent a hand playing drums on the EP. The DOB project marked his first foray working with an American Rock band. Mastering of the EP was handled by GRAMMY Award winning mastering engineer Joe LaPorta, best known for his work with David Bowie, Foo Fighters, Killers, Imagine Dragons and Vampire Weekend further solidifying this as a world class project.


Soon after the recording was finished, the guys agreed that the time had come to add a drummer to the mix. After working with several drummers and holding numerous auditions, drummer Chris Toeller was chosen to join the band, and the lineup was now officially complete.


DOB draws its influence from some of their personal favorite bands, including such rock legends as Muse, the Foo Fighters, Queen, The Who, Stone Temple Pilots, U2 and Led Zeppelin. Their guiding principle in the creation of their music is to incorporate key stylistic elements of all great rock music eras into a large stadium-worthy sound that thrills all audiences, providing an immersive experience like no other. Their songs echo a progressive message that's meant to elevate and inspire the audience, while still paying homage to classically definitive and enduring rock nuances.


All seasoned musicians, the individual members of DOB, prior to becoming a band, had released several indie recordings under their belts. Additionally, some of the members have opened for some of the biggest names in rock, including Aerosmith, KISS, the Dave Matthews Band, and Kid Rock, and have toured extensively throughout the U.S. and abroad. As a band in 2017, DOB has performed at high profile events such as the extreme sports themed 'Dew Tour' sponsored by Mountain Dew as well as kicking off the 'Gladiator MMA Championship Series' with a solid performance at the iconic Los Angeles Memorial Sports Coliseum.


DOB has now followed up with their first full-length album The Rise and Fall of Babylon, released on October 6th. Produced once again by Andres Torres with mixing handled by Grammy Award winning mixer Curt Schneider (Augustana, Richie Sambora, Joe Bonamassa), and mastering by Dave Kutch (Bruno Mars, The Strokes, Outkast and Joe Perry).


On the eve of the albums release, the band premiered The Rise and Fall of Babylon in front of a capacity crowd at the legendary Viper Room on the world-famous Sunset Strip in West Hollywood, California. The crowds reception to the new material was ecstatic – no surprise given the band's exciting and charismatic stage presence.


The album features seven powerhouse tracks, some of which speak to issues facing America today. Knight feels passionately about social justice, and has strong opinions about the current state of affairs in our country. He explains the impetus behind the new album: "These are precarious times we live in. The Rise and Fall of Babylon signifies something that I feel has been a long time coming. Babylon, meaning the USA, is slowly spinning out of control and entering into vast turmoil. I feel we are at the beginnings of a revolution. one of which the likes we've never seen before. As a nation, we are no longer viewed in the regard we once were. The title reflects this shift and quite possibly a prelude of what's to come."


The Rise and Fall of Babylon is meticulously crafted on every level, and a testament to the exceptional songwriting and musicianship of these four supremely talented gentlemen. The opening track "Freedom" is a thunderous, full-frontal assault on tyranny, while the hard-hitting lead single "Without You" is a defiant rebuke to someone who's betrayed you, killing the love you once felt toward them. Brimming with awesome instrumentals, the track is an exhilarating rock song. The beautiful anthem "We Are the Ones" is a hopeful clarion call for us to all come together and unite in our fight against those who try to divide us. "Idiosyncrasies" is a pile-driver of a track speaking to Knight's different sides of his personality and quirkiness and trying to reconcile them all, followed by the uplifting anthem "Simple Life." The album closes with "Civilized," a real banger of a tune that speaks to someone you're obsessed with who's hurting you.


DOB has been gathering national and worldwide acclaim, having been featured on radio and media from around the globe, they've built a rapidly growing base of loyal fans and followers, not only because of their exceptional, dynamic sound and thought-provoking lyrics, but also their appreciation and undying support for their fans. The Disciples have arrived.


-Jeff Archuleta