Rock act Disciples of Babylon sets the stage to launch its debut EP Welcome To Babylon worldwide with a FREE record release concert performing at King King in Hollywood, California on Wednesday August 12th.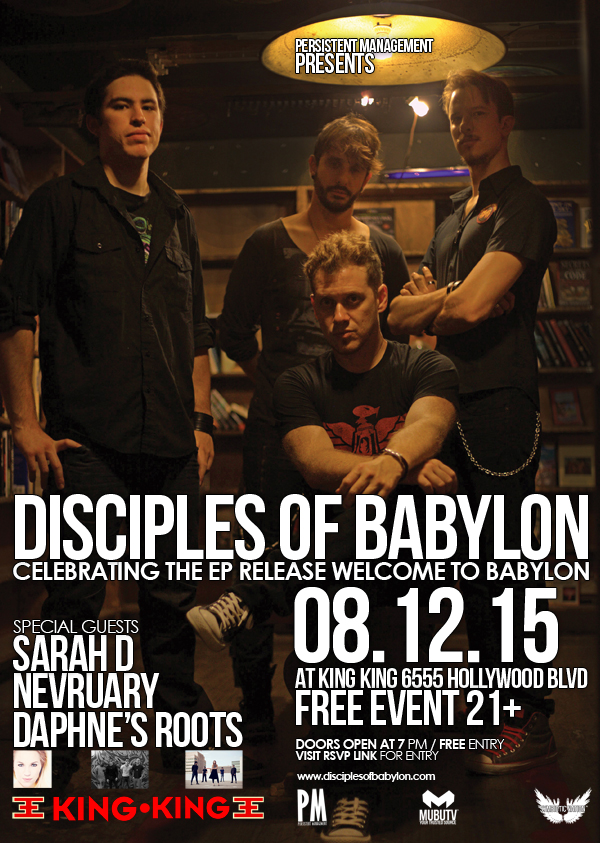 HOLLYWOOD, CA – Los Angeles based hard rock group, Disciples of Babylon have announced the release party of their debut EP entitled "Welcome to Babylon". The 3-song EP includes the band's single, "Karma" as well as "Arrived" and "The Great Pretend". The EP was produced by Andres Torres (La Santa Cecilia) and mastered by Grammy-nominated mastering engineer, Joe LaPorta, whose previous work includes projects for The Foo Fighters, The Killers, Imagine Dragons and Vampire Weekend. "We are incredibly proud of this first recording", said front man Eric Knight, "Although brief, we wanted to make this first statement one that would set the tone for what's to come".
Disciples of Babylon will mark the release of their debut by holding their EP release party at King King in Hollywood, California on Wednesday August 12th doors open at 7pm. The free event celebration will also include the premiere of the band's official music video for their single "Karma" which was released earlier this year. Special guests performances by Sarah D, Nevruary & Daphne's Roots to round out the evenings festivites.
Disciples of Babylon's EP, "Welcome to Babylon", will be available on all major digital music retailers as of September 4th. The official music video for "Karma" will also be available on the group's website, www.disciplesofbabylon.com, and YouTube as of August 13th.
For additional information regarding the Disciples of Babylon and their EP release event at King King in Hollywood (or to RSVP for the event), please visit their official invite link for tickets at: www.persistentmanagement.com King King is located at 6555 Hollywood Blvd. Los Angeles, CA 90028 in Hollywood. Admission is free, and members of the public 21 years and older are encouraged to attend.
---