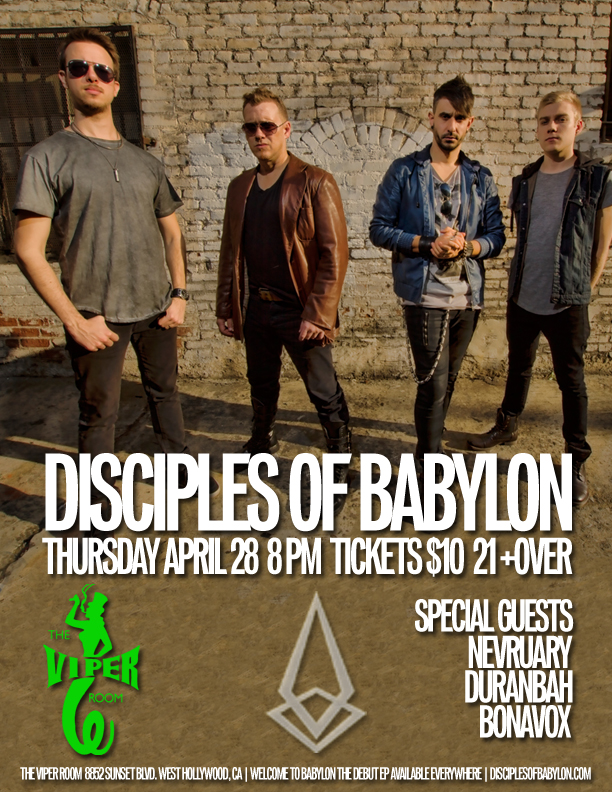 Disciples of Babylon are pleased to announce their return to Hollywood, in their first headlining performance at the world famous Viper Room on the Sunset Strip Thursday April 28th. Doors open at 8pm with special guests: Nevruary, Duranbah & Bonavox.
The Viper Room is located at 8852 Sunset Blvd. West Hollywood, CA 90069 in West Hollywood. Admission is $10, and members of the public 21 years and older are encouraged to attend.
Ticket link: http://tktwb.tw/21Ch4Js
Disciples of Babylon come from Hollywood – and so does their sound. Big, broad and epic, their music conjures up the huge stadium bands – Muse, Foo Fighters, Queen, The Who, Stone Temple Pilots, U2 and Led Zeppelin.
 
Disciples of Babylon seek to create music that combines elements from all the major eras in rock – delivering the ultimate proof that rock is here to stay.
 
When Eric Knight and Ramon Blanco met at an alumni event at the Musicians Institute in 2012, the initial idea for Disciples of Babylon was born. Gui Bodi bassist of the band is also a graduate from the renowned elite music school and drummer Chris Toeller the newest member of the band rounds out the band's line up.
 
Their debut EP, "Welcome to Babylon", was released in September 2015, and was produced by Grammy-winning producer Andres Torres as well as mastered by Grammy-nominated mastering engineer Joe LaPorta, most famous for his work with Foo Fighters, Killers and Vampire Weekend, at the legendary Sterling Sound Studio in New York. The result: world class sound!
 
Before joining DOB, all the band members had already launched busy pro careers and notched up a slew of indie productions; some had supported bands like Aerosmith, KISS, Dave Matthews Band and Kid Rock.
 
With a strong lineup and versatile repertoire, they plan to conquer the world with their philosophy of "Welcome you all to Babylon".
 
Find out more at: www.disciplesofbabylon.com
 
Persistent Management Presents
Disciples of Babylon
Live in concert
with special guests: Nevruary | Duranbah | Bonavox
The Viper Room
Thursday April 28, 2016 8:00 pm (doors)
8852 West Sunset Blvd.
West Hollywood, CA 90069
Admission: $10 (21+over)
Tel: 310.358.1881
web: www.viperroom.com
web: www.persistentmanagement.com
web: www.disciplesofbabylon.com
Event Hashtag: #BabylonTakesTheViperRoom